With the ever-changing technology, Few things have expanded faster, especially during Covid-19 was a boom for gamers and video game developers. However, present challenges that reach gamers in the massive competitive world!
After launching your app, it works flawlessly on every device you tested it on. But it could be frustrating when downloads aren't as high as you want them to be. After all, you spent a lot of money, time, and effort on the re-development and promotions, you've probably got a large audience for your app. but you just haven't found them yet!
So why isn't anyone interested? You might be wondering, how to target your users to install your app in the global market. Take a look at this report from statista (2019 to 2021):
Number of mobile app downloads worldwide from 2019 to 2021, by country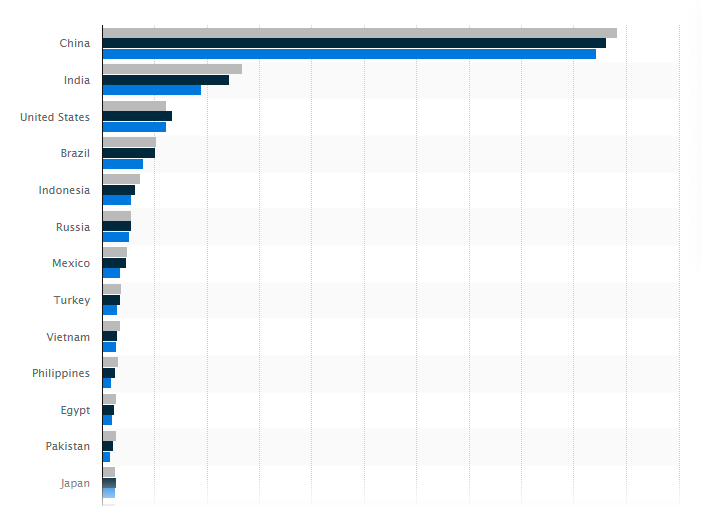 These numbers must have you beating your boots, isn't it? This is a challenge that many faces today
The best solution is Video game localization to achieve maximum market coverage, this is the best way for you to reach your goal. By localizing game and adapting it to a new global region, will boost sales and expand the market base.
If you have never heard of game localization, Let me hit you with some knowledge.
What is Game Localization:
Game localization is the process of translating a video game in a global market to meet the needs of a target language and culture.
Let me ask you a serious question. Have you ever played a video game without understanding the language? or a movie? You cannot enjoy the game if you do not understand, right? Content has a much better chance of success in global markets when they are localized and adapted to them. Game users can only enjoy your products if they are able to understand them. So, mobile app translation can win this battle to gain a loyal audience. All it takes is a little effort.
So how to start localizing your game – We are here to explain the process to you! Keep reading it!
Before proceeding with the localization, the following points must be addressed:
1. Decide the languages to localize
2. Choose the best translation method
3. Set a reasonable timeline
4. Isolate all text strings from source code
5. Prepare style guide and glossary list
How does game localization work– Here is the process: 
Analyzing game materials 
selection of suitable tools, 
Understanding culture, psychology, and language uses of the target market, 
Translating the text and adapting the content to the local time units, dimensions, and codes (This is where localization starts!) 
Adapting the text to the line and dialog window sizes, 
Customizing the names of characters, monsters, objects, game locations, geographical names, events, and more, 
Maintaining the consistency of genre-specific terminology, repetitive expressions, and abbreviations,  
Linguistic testing and quality assurance, 
Implementing the final translations into the game codebase 
You might be thinking, how long does it take to localize a video game? The time it takes depends on some circumstances such as how long the game is, how vast its date is and which language it is to be localized. However, with specially developed localization software, skilled localization experts, and an experienced team, you can manage complex productions in the shortest time possible
The Benefits of Localization:
For video game developers, localization is key to reach global market.
1. increase the number of downloads.
3. Better App Store Rankings
4. Stand Out from Your Competitors
5. wider Target Market
6. More Gamers Can Experience Your Unique Creation
7. Diversify Your Income Streams
8. Avoid Offending Your Users and the Local Government
Conclusion:
Providing user-friendly applications for the players is the most important aspect of game translation and localization. No matter what language they use. Our professional linguists have extensive experience in the field and being players, they are familiar with the terminology and lingo used within the game. 
Do you want to learn more about our localization services- Just drop us a line! [email protected]