How many languages do you speak? Are you monolingual, bilingual, or Multilingual? English is quite a popular language for us. However, it is also a fact that many countries do not prefer the same language.
In today's digital world, expanding business in various sectors across the nations, language has become an important key to growth. Since the covid outbreak, most people are entering online mediums for entertainment, shopping, and education. So the online channels are global. This makes it easier for sellers to sell their products globally which increases the audience.
In the 7,000 existing languages, only a few languages are recognized as being in use for web and app applications worldwide. Some are more common than others such as English, Chinese, French, German, Spanish, and others. Take a look at this report from wiki 2021: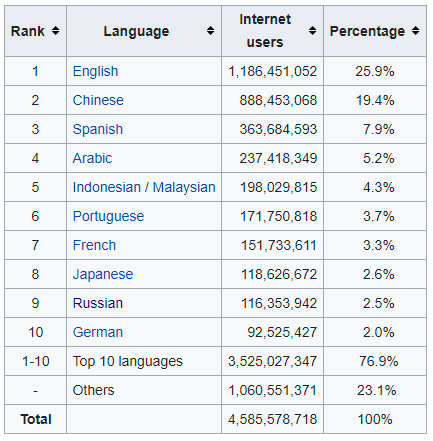 Now, imagine if you added English, Chinese, and Spanish to your website. This would give you the opportunity to reach 53.2% more internet users. For this reason, a multilingual website is essential for any business
Nowadays, whenever we are thinking about buying something, We perform an online search on the brand or go directly to the company's website.
What do you think, if a target consumer lands on a web page that they don't even understand when it's in a different language? Do they force them to navigate the website or do they end up & find something else they can relate to? how to deal with this condition to target your audience effectively? A multilingual website is an answer for you. It is essential for any company that wants to remain in a competitive world.
Most of the audience browse in their native language. So, localizing your website potential customers are more likely to convert from prospects to paying customers when they find the right data from your site. By limiting your website to one language, you're also limiting your audience. When your site is available in multiple languages, By having a multilingual website you attract the attention of new customers and enjoy a wider audience in a global market resulting in more profits and sales. It improves your chances of getting found in a search engine.
If you are ready to expand your company in the global market to attract a new audience, a multilingual website is an excellent choice for you!
As you already know, English language-based apps perform best in English-speaking countries. In this case, It may fail to reach globally which will automatically reduce sales. To deal with this condition to reach non-native English speakers, a multilingual app is a solution for this problem. When you develop in a specific language app or single language app, most people will not be able to find your app around the world. Because your keywords are not being searched in their native language. Through a multilingual app, will get the reach it deserves. it makes them more users friendly. It is a one-time cost that drives conversion rates and builds long-lasting relationships with end-users by localizing your app.
Key benefits of creating a Multilingual web and Mobile app:
1. Translating your website and apps are cost-effective
2. It increases financial productivity
3. Increases downloads
4. Boosts app store ranking
5. Reduce bounce rate
6. Increase traffic and SEO ranking globally
7. Gathers more data on customer behavior
8. It will reach a wider audience.
9. Gain a new audience
10. Stable Global Presence
11. Build trust and Brand Image
12. It increases sales.
Wrapping up!
Trends are showing that the online market is much wider. If you are targeting a global audience to attract new customers, this should be at the top of your expansion plan. Building multilingual apps and websites is a smart investment, but only if you choose the right translation agency for your project. It is always essential to ensure that when you select a translation service to reach an excellent position in the global marketplace.
Activeloc Globalization has over 70+ specialized translators, linguists, and advanced translation memory tools & software to help startups and cooperative businesses. Contact Activeloc Translation agency today and make your business reach global heights.
Reach us: +91 6361045174 OR [email protected]